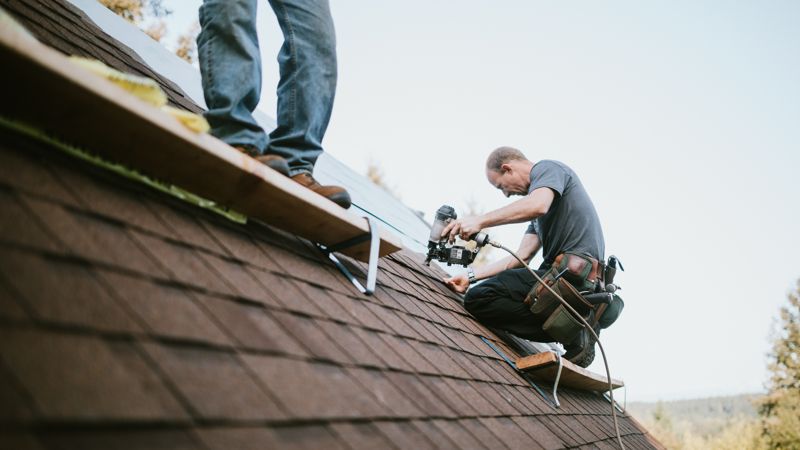 Roof Installation Services in Dayton, Ohio
Are you in need of a new roof but do not want to break the bank? Look no further than Patriot Construction for the job! We specialize in affordable and long-lasting solutions for both homes and businesses. Whether you are looking for a traditional asphalt shingle roof or a modern metal option, we have you covered. Whatever material you would like, we can work with you to find the perfect fit for your property's style and your budget. Plus, we offer free estimates and can connect you with financing options. Do not wait any longer! Contact us today for quality roof installation services in Dayton.
Call (937) 984-1666 or send us a message online.
We Value Faith & Family

We are deeply rooting in our local community and ministry. We strive to give back when we can to charities and causes close to our hearts.

600+ Jobs Completed

...and counting! We do roofing for another reason, we love to give back. We help protect your home and family while working within your budget.

Woman & Veteran Owned & Operated

As a local business in Ohio, we pride ourselves on quality work backed by integrity and an unwavering commitment to help our neighbors.

Customer Service Focused

Our goal is your 100% satisfaction. We always pick up the phone and our team is happy to answer any questions you have about our services.
The Benefits of Installing a New Roof
We understand that updating your roof is a big endeavor, but this kind of project has many great benefits. From adding to your property's value to improving your energy efficiency, we have listed some of the biggest advantages of an upgrade.
The benefits of installing a new roof include:
Added curb appeal and value. We can install a roof that looks just as you envisioned. Not only that but should you go to sell your home or commercial location, a newer roof is going to help you get a higher price.
Better protection. An old or faulty roof can leave you susceptible to water damage and other kinds of problems that could prove to be costly. Installing a new one is an investment that can save you money on repairs and keep your property safe.
Enhanced energy efficiency. Many newer roofing systems make it easier for your heating and cooling units to maintain a comfortable temperature. By lightening your HVAC system's load, you can save money on your energy bills from month to month.
Excellent warranties. We offer an industry-leading warranty for our workmanship, and we can also help you choose roofing products that come with valuable manufacturer warranties.
Maintaining insurance coverage. Certain insurance policies will not cover damage to older roofs. By updating yours, you can make sure you are covered should disaster strike.
Recent Work
Check Out Our Gallery
When you choose Patriot Construction, you can know you're working with a team that is dedicated to getting the job done right the first time.
Roof Repair vs. Installation
Are you struggling to determine whether to repair or replace your old or damaged roof? Do not worry—Patriot Construction is here! Below are things you ought to account for when deciding between installing a new roof or getting repairs.
We suggest considering:
The age of your roof. It can be a good idea to fully replace your roof if it is near the end of its projected lifespan. This is because as roofing materials age, they tend to be more susceptible to problems. By getting an upgrade, you can avoid the expensive and time-consuming complications that can come with having an older roof.
The extent of the damage. If your roofing materials have cracked, broken, or sprung a leak in an isolated area, a simple repair job should do the trick. When these issues span across your roof, then it could be a better decision to get a replacement.
The cost efficiency. While a replacement will cost more than a single repair, there are many cases when getting an upgrade can actually save you money. Replacing your roof eliminates the need for the inspections and repairs you might have gotten over time. Additionally, a new roof is likely to be more energy-efficient and better insulated, leading to lower utility bills.
If you are still not sure about what path to take, let us help. We would be happy to assist you as you weigh your options and give our honest opinion on what would be the best choice for your property.
Hear From Our Happy Customers
Reviews & Testimonials
At Patriot Construction, your satisfaction is our priority! See for yourself what people have to say about working with us.
"Patriot is the best contractor I have worked with on an insurance claim."

- Travis H.

"I reached out to Patriot Construction Group and they were wonderful to work with from start to finish."

- Maggie M.

"Patriot Construction Group did a excellent job getting our roof replaced and more importantly getting it paid for by our insurance! We had some damage done by high winds. Steve came by the next day and had it temporarily fixed so we wouldn't have any"

- Jordan M.

"Patriot Construction is my go-to roofing company in Dayton, OH. They gained my trust after the May 2022 hailstorm."

- Susan F.